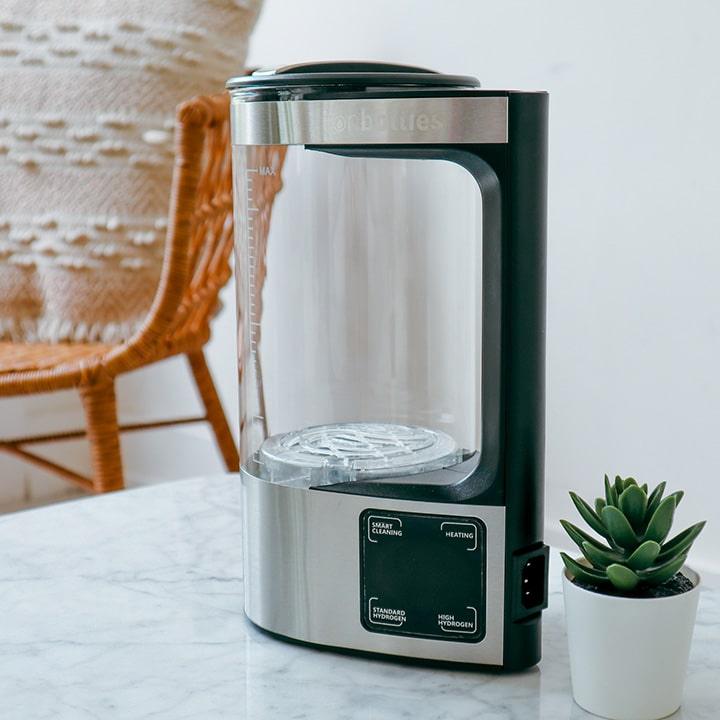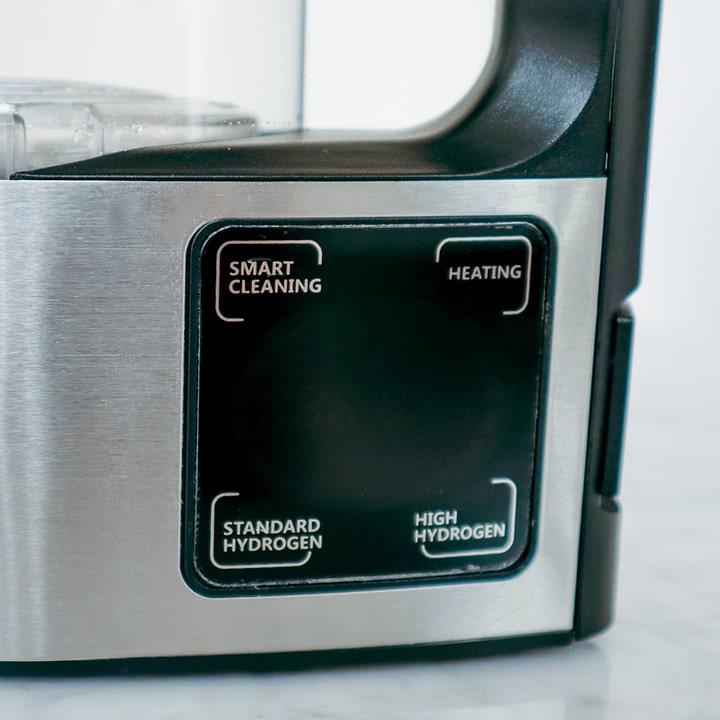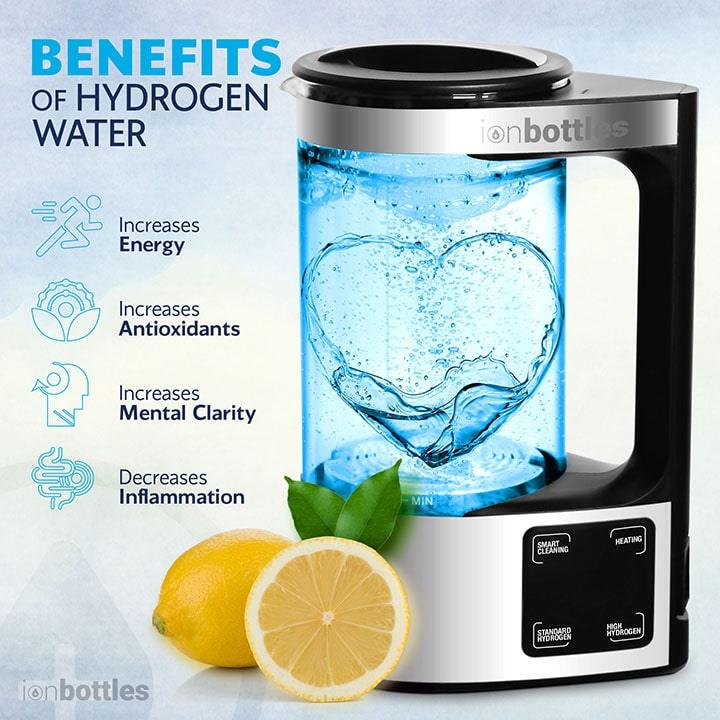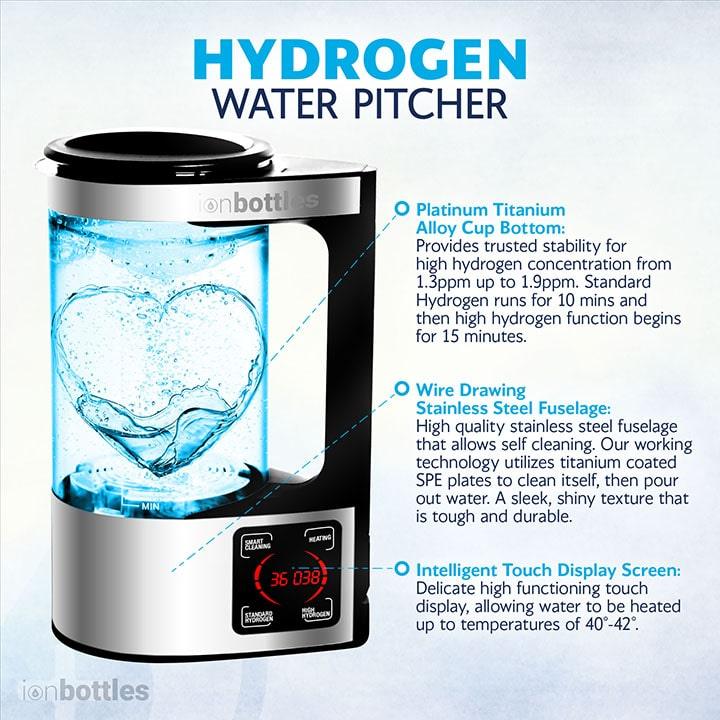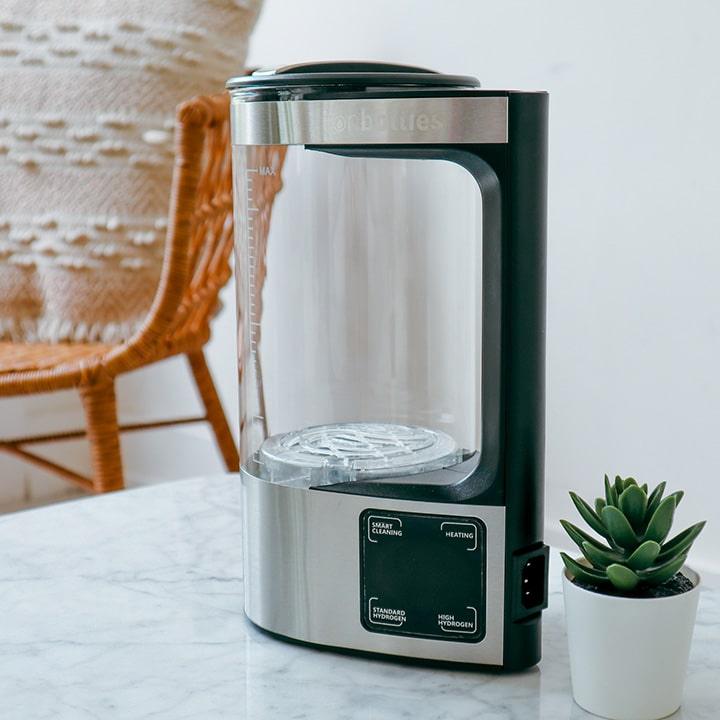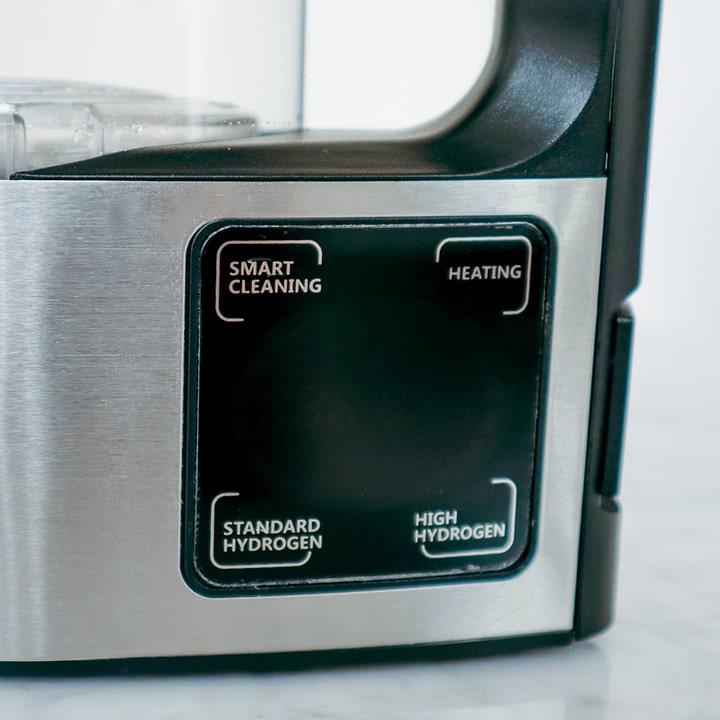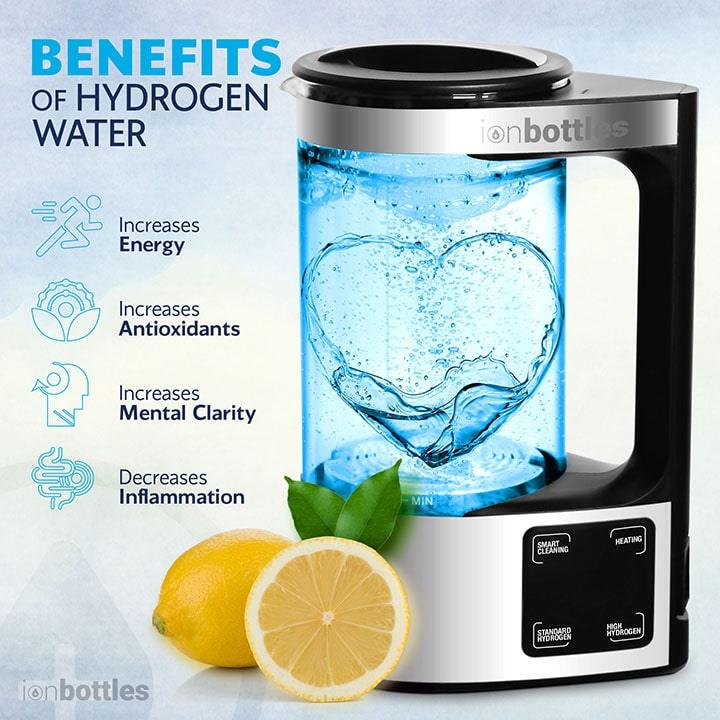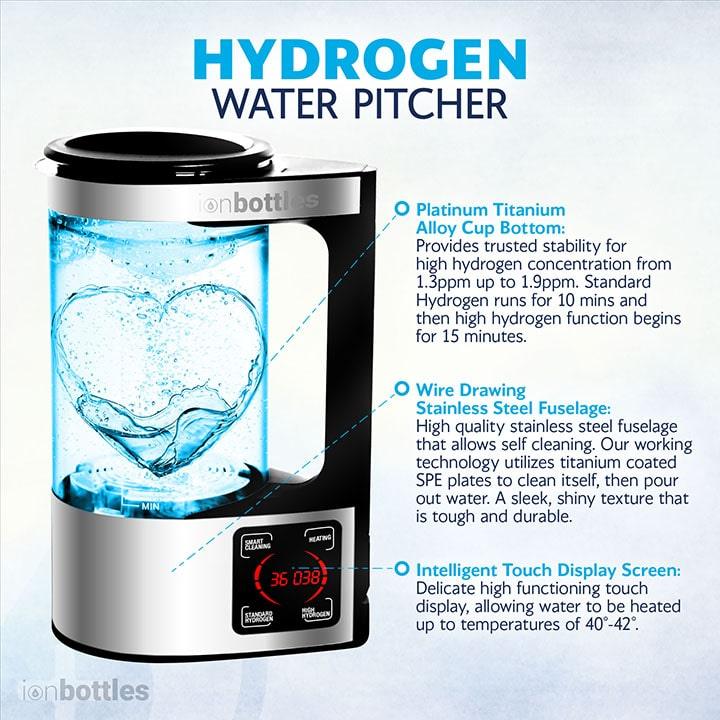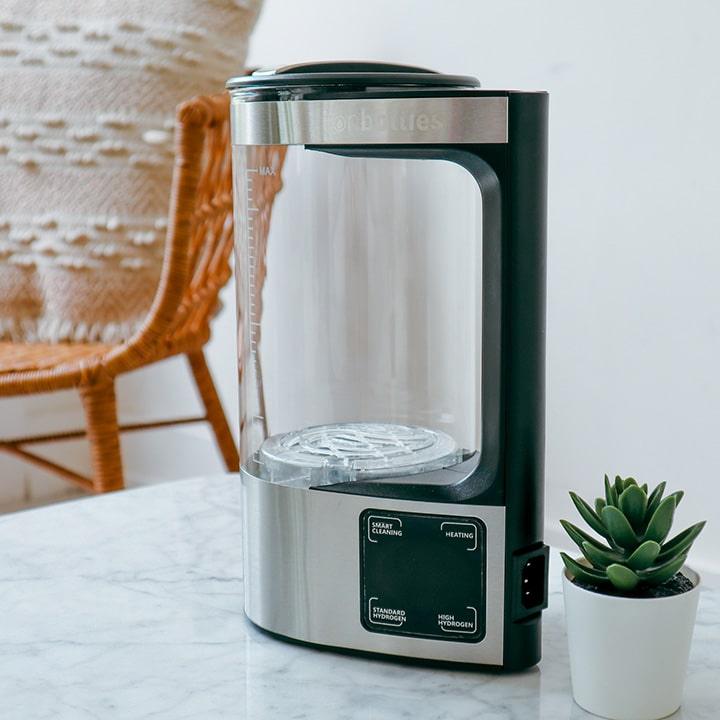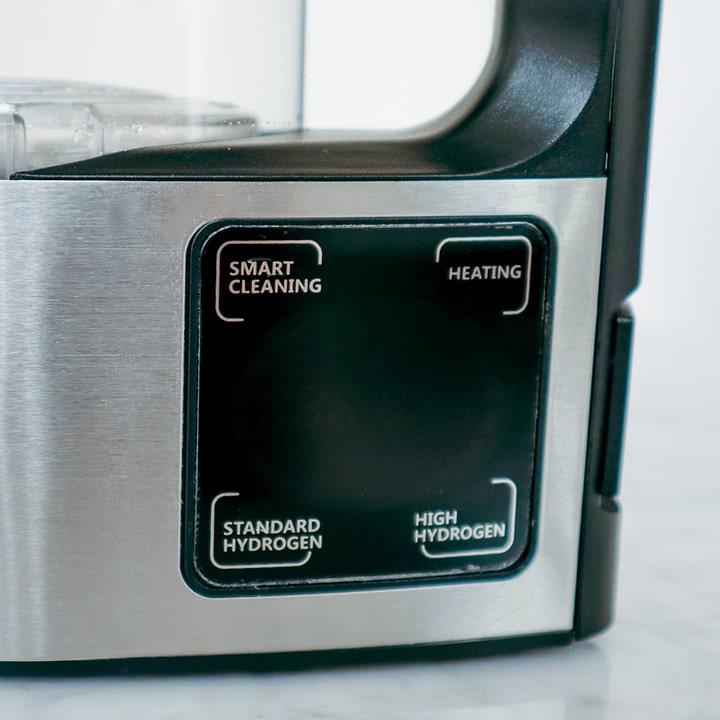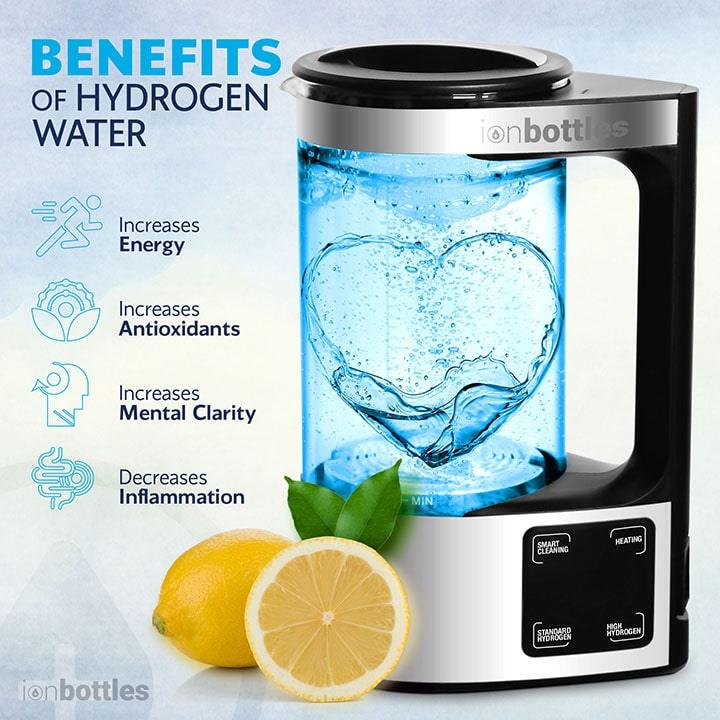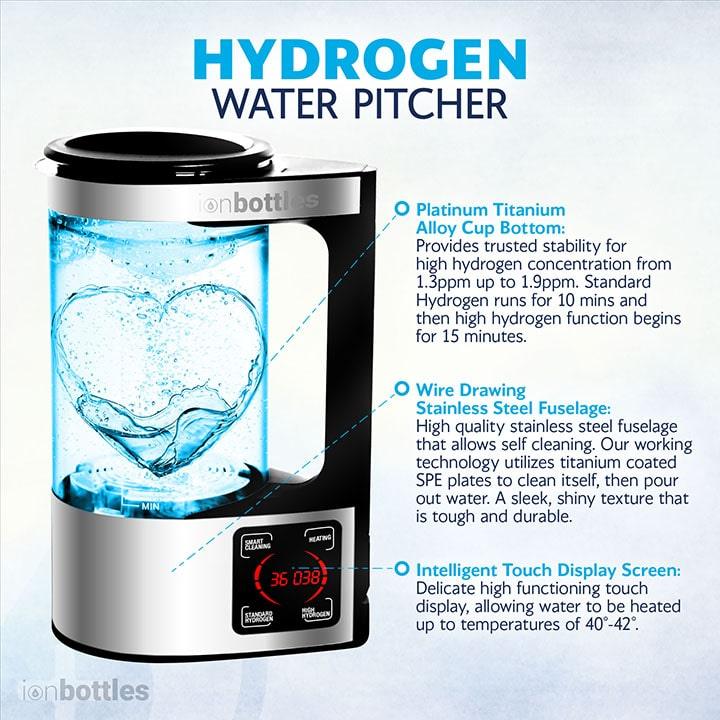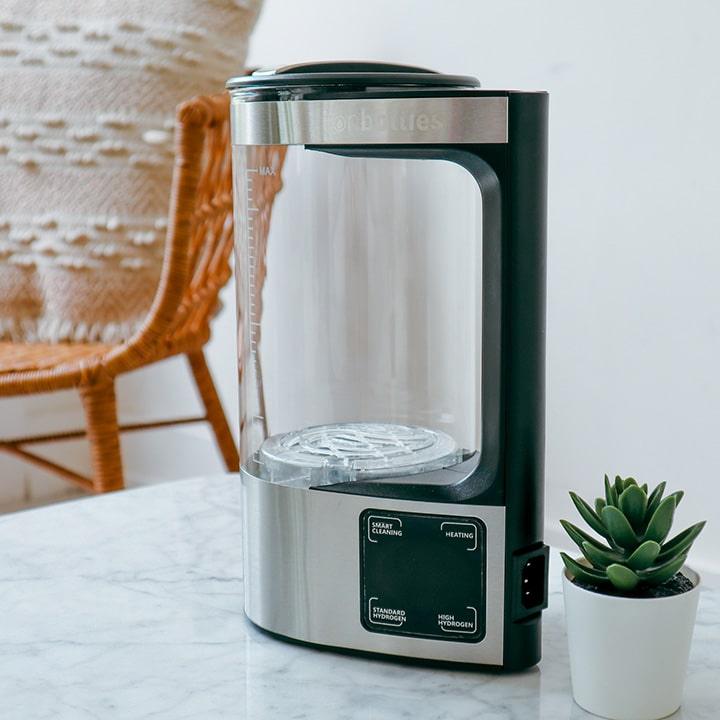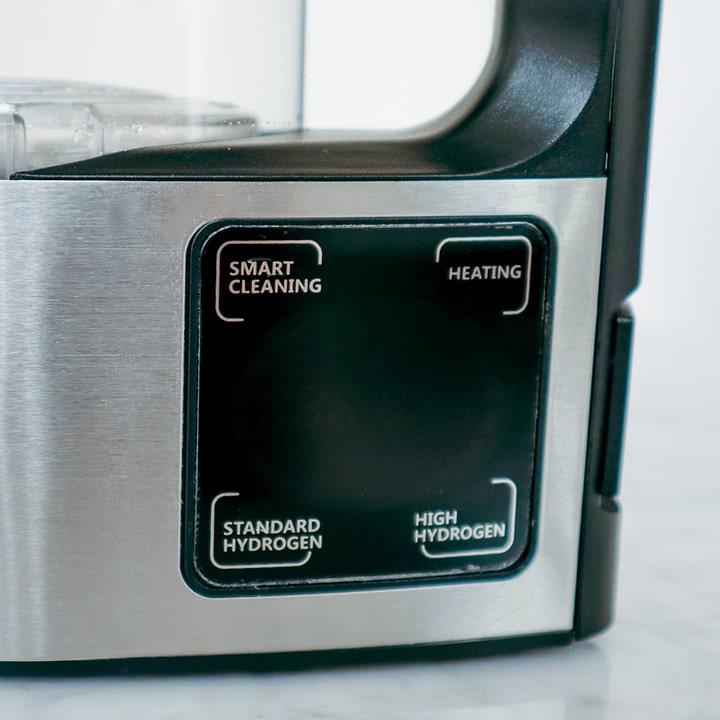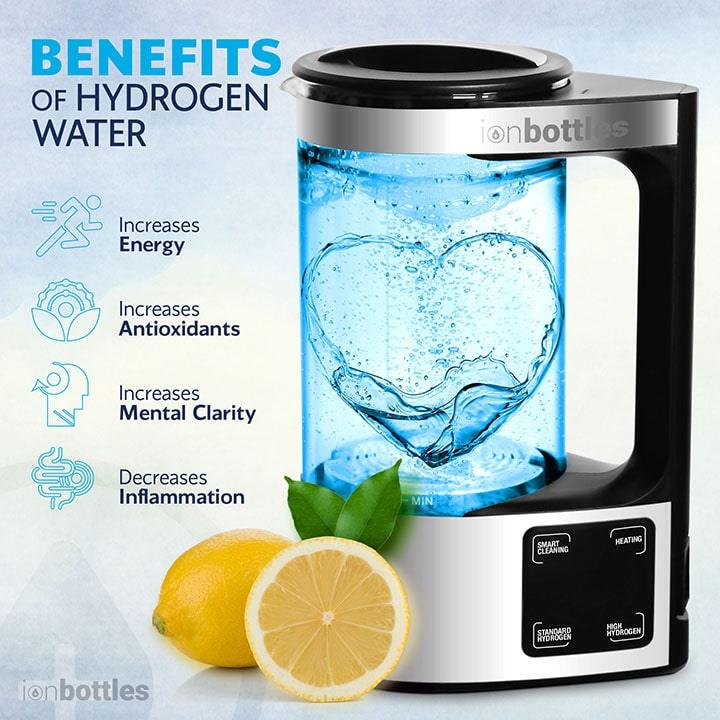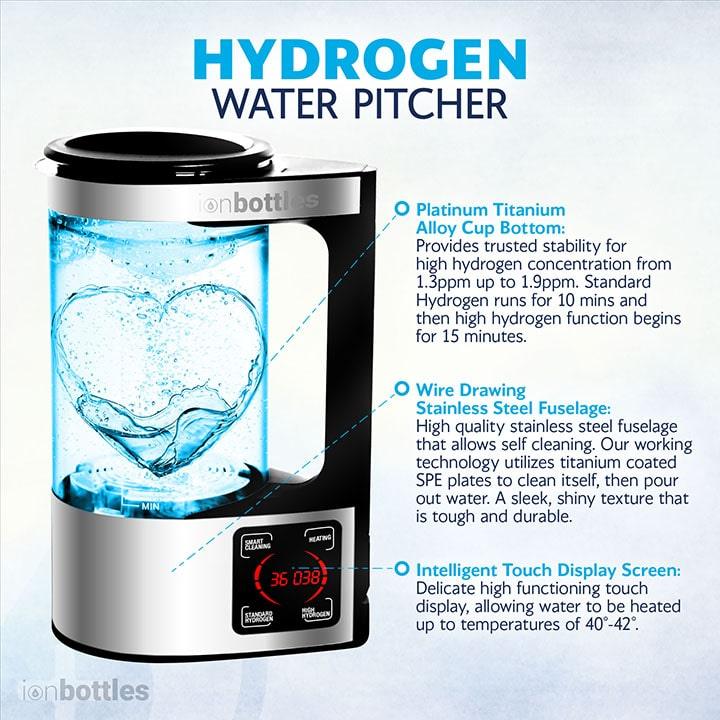 Powerful Antioxidants
Improve Mental Clarity
Increase Natural Energy
Hydrogen Water Pitcher
Limited time offer(s):
• Buy One Get One 50% off
Features & Benefits
• 64 ounces (1892 ml) for larger groups
• Improve athletic performance and recovery
• Smart self-cleaning mode
• No parts or filters to replace
• Constant water warming 109 F (optional)
• Up to 1.8 PPM Hydrogen
As seen in
Increased Antioxidants
Hydrogen-rich water has been shown to have antioxidant properties that can help protect your cells from damage caused by free radicals.
Improve cognitive
function
The molecular hydrogen in IonBottles can help increase cellular hydration, improving the water balance in your cells, which can enhance cognitive function.
64 oz (1892 ml)
Let the whole familyenjoy the benefits of hydrogen water, with our 64oz capacity water pitcher.
Strongest Antioxidant
Hydrogen-rich water has been shown to have antioxidant properties that can help protect your cells from damage caused by harmful free radicals.
Improved Cognitive Function
The molecular hydrogen in IonBottles can help increase cellular hydration, improving the water balance in your cells, which can enhance cognitive function.
64 oz (1892 ml)
Let the whole family enjoy the benefits of hydrogen water, with our 64 oz large capacity hydrogen water pitcher.
The Ultimate Upgrade for Your Hydration Routine
"IonBottles are not regular water bottles - they're a game-changer for your health and hydration routine."
With hydrogen-rich water that has antioxidant properties, IonBottles offer a convenient way to reduce inflammation, boost energy levels, and potentially improve cognitive function.
Reduce Effects of Stress & Anxiety
Stress and anxiety can take a toll on the body and mind, but with IonBottles, you can enjoy the soothing and calming effects of hydrogen water on-the-go.
Reduce Chronic Inflammation
IonBottles are designed to deliver hydrogen-rich water that can help to neutralize harmful free radicals and reduce inflammation in the body.
How it works.
With the press of the button your H2O is split into hydrogen and oxygen molecules through our patented electrolysis process. The hydrogen H2 gas is released into the water thus creating higher antioxidant (energy-giving) water with maximum bioavailability, while expelling the oxygen and waste gases when vented.
Hydrogen For Health
Our glass hydrogen water pitchers generate safe & pure molecular hydrogen gas to infuse regular drinking water.
With IonBottles, you can enjoy the benefits of molecular hydrogen in a convenient and portable manner.

Our pitchers are easy to use - simply fill with water, press the button, wait a few minutes for the hydrogen to infuse, and enjoy! Whether you're looking to improve your health and reduce inflammation, improve cognitive function, or promote overall wellness in your life, IonBottles has got you covered.
Why upgrade to the IonBottles - Pitcher?
By upgrading to IonBottles, you can enjoy these benefits in a convenient and powerful product.
IonBottles delivers molecular hydrogen, which has been shown to have numerous health benefits, including reducing inflammation, stress, and anxiety, improving athletic performance, enhancing cognitive function, and promoting wound healing.
Benefits of the IonBottle - Pitcher
Upgrading to IonBottle is a smart choice for anyone looking to improve their health and wellness. Here are some reasons why:
Reduce inflammation
Increase natural energy
Improved cognitive function
64 oz
Scavenging of free radicals
No chlorine
No oxides
No unwanted chemicals
IonBottles - Pitcher
.
IonBottles - Pitcher
Food-Grade Stainless Steel & Glass
No parts to replace, and it's easy to clean
User Friendly
Using IonBottles Pitcher is easy - simply fill the pitcher with water, press the button, and in a few minutes you'll have 64 ounces of hydrogen water!
Easy to Clean
Quality Materials
Designed using food grade materials and free from BPA and phthalates, so you can feel confident in the safety and quality of your water.
Guranteed Shipping
IonBottles - Hydrogen Water Pitcher
Revitalize Your Body with Hydrogen Water.
According to recent estimates, it is believed that over 300 billion plastic bottles are discarded each year globally. This is a staggering number and has led to a significant environmental impact, including the pollution of our oceans and harm to wildlife.
It's time for a change.
70 million plastic bottles
are thrown away every day from just in the US alone.
Americans spend more than $1.5B
on poor quality bottled water each year.
Only 30% of plastic bottles
are recycled, meaning that the majority end up in landfills or as litter.
I was introduced to ionBottles from a coworker. She brought her bottle in and the whole clinic was asking about it. I ordered one and have been using it everyday since, it's been a positive change for me.
- Melissa S.
I was referred by a friend to ionbottles I couldn't have made a better investment for my health this past year. I refill it and use it nearly every single day. I can definitely notice on days when I don't drink from it.
- Regina M.
I'm finding myself drinking more water than I have ever in my life. Since March I started drinking from my bottle 5x a day easily. I have also recommended it to my friends and my next door neighbor.
- Alex M.
I love the taking my ionbottle to the gym. Hydrogen-infused water is my secret supercharger, giving me an extra boost of energy and focus when I need it most. Might just have stumbled onto something here!
- Sarah F.
I recently purchased an ionBottles from their website and I have to say, I'm really impressed with the quality and effectiveness of these bottles. The ionization process is easy and I appreciate the science behind it.
- John M.
These guys found a way to safely release the hydrogen and vent the oxygen in H2O. The studies I've read show more hydrogen intake means more antioxidants. I find myself drinking more water than before.
- Philip R.
I've noticed a significant improvement in the taste of my water since I started using it. The water just tastes cleaner and fresher, and it's really made a difference in how much water I drink throughout the day.
- Lori L.
Nicely constructed and solid
But aside from that... the jury is out. We really can't tell that drinking hydrogenated water after at least 6 months has made any difference in our lives. The pitcher seems very well constructed, but I'm not sure about the fact that there is plastic in the working mechanism. We avoid plastic in our lives and here we are with plastic. Also, the water (which is originally Berkey filtered water) after time started to taste like mildew. We were given cleaning instructions and it's better, but still tastes a bit off. I'm very disappointed as I had high hopes that it would be the missing piece in our healing journey. Guess not. I wouldn't encourage the pitcher because the hydrogen is lost pretty quickly unless you pour it into a capped container. Not a good recommendation. Sorry.
Love my IonBottle Pitcher
I have been using the pitcher I purchased from IonBottles for hydronizing water now for well over a year and absolutely love the quality, convenience and ease with which I can enjoy the best water. Thank you so much for your conscious products for elevating health wherever we travel to. Jollean
Abolish coffee!
This will change the world. RIP coffee industry, good riddance! Thanks you IonBottles!!
Ion pitcher
I haven't used mine yet . I had asked my sister if she would want a pitcher cause her husband and her are huge fans of the ion bottle I got one for my sister a couple of years ago and she liked hers so much she bought her husband one. I ordered two pitchers with the Black Friday special but only one came in I tried to give it to her but she wouldn't take it so now I feel like I can't use mine till hers come in